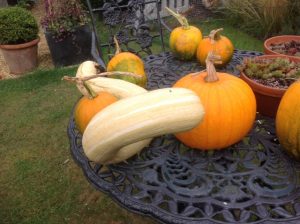 There are lots of items on the news and in the papers to worry us at present. So, my resolution for this autumn is to watch less news on television and to focus on me. I love autumn colours though and these squashes make me smile.
I think like many people I still feel disjointed in my life from the events of the last year. Even if very little actually changed for you during lockdown there have been lots of adjustments to make since.
So we all need to take time out for ourselves. There are many ways to do this but this week I want to share a very simple head massage which most people can try easily for themselves. It is relaxing and a good way to take a break from your computer during the day or to try when you are having a cup of tea indoors or outdoors.
Massage increases circulation to those areas of the body to which it is applied. So a head massage is a good way to increase circulation to your brain and also to relax the scalp muscles at the same time. If you have difficulty raising your arms above your head, ask a friend or family member to apply the techniques gently. This can be done if the other person stands behind you and follows the instructions in the video. When you and they are comfortable with the techniques you can ask them to increase the pressure if you want to a level that feels right for you. Once you have followed the video a few times you should be able to apply the techniques whenever and wherever you want to.
Check out the link on Facebook below and let me know how you get on. And most important of all – Enjoy it!